11 Apr

Let's Talk Toilets
How to Choose the Right Toilet
This probably isn't what you'd expect us to be writing about, but believe it or not, we're asked about toilets more often than you'd think! So, we thought we'd put together some information about toilets, just for you.
As you may or may not know, there are a LOT of different kinds of toilets. While they all basically share the same task, finding the right one for your bathroom can be a challenge. If you're seeking a higher end modern look, a one-piece toilet would be great for your bathroom. If you're going for more of a traditional bathroom, then the two-piece toilet is for you. "But, what about the tank?" you might ask. If you're looking to take the two-piece toilet to the next level, we've seen some great "retro" looking toilets with high-tanks. On the other side of the spectrum, in-wall toilets can save you space in a tight room and also look pretty luxurious. Take a look at the examples below to get a better idea of what we're talking about.
After narrowing down the style of toilet you want, there are a few more things to consider. Now that we live in the 21st century, the possibilities for toilets are becoming endless. You might have heard of smart phones and smart cars, but have you heard of smart toilets?
The Future of Toilets is Exciting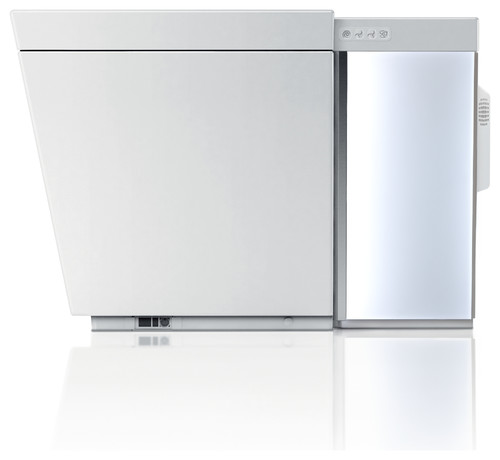 Innovations in toilet technology have taken a turn for the better.
Smart toilets save water, are more comfortable, and provide a much better experience than ever before.
Take the Numi One from Kohler for example. This toilet features a night light, a heated seat, an integrated bidet with temperature-controlled water, an air dryer, a deodorizer, music, feet warmers, and it even washes itself. All this is controlled from a touchpad screen.
Imagine waking up in the middle of the night and having to use bathroom. It's a cold night, so the heated seat and feet warmers of the Numi One would amazing. That paired with some soothing music? Talk about luxury. We're starting to really love the idea of a smart toilet here at Room Workshop.
All of these features might seem like a bit much (especially with a $6,000 price tag), but there are a lot more solutions out there, and the list isn't going to stop growing any time soon.
Fortunately, there are some smart toilet seats that might do the trick and are more affordable.
The Washlet S350e from Toto is a toilet seat that can be attached to any toilet, but has features like a night light, built-in air deodorizing system, warm-air dryer and more.
One thing that is really neat about modern smart toilets is that they can help conserve water. Surprisingly, the bidet feature that many of the smart toilets has is actually very effective in conserving water. They help reduce the amount of toilet paper that is used, which in turn, helps with plumbing issues. On top of that, many toilet manufacturers are trying to create toilets that use less water with each flush.
Our favorite feature that we've seen is the self cleaning function of a lot of the smart toilets. Check out this toilet from American Standard that cleans itself! Although it doesn't have any other futuristic features, the price is just right.
However, for less than $100, you can add a bidet attachment that requires no electricity or plumbing. So add that to a self cleaning toilet, and you've got yourself a modified smart toilet for only about $500.
The future is on it's way, people, and we are really excited about how the role of design is really shaping it.